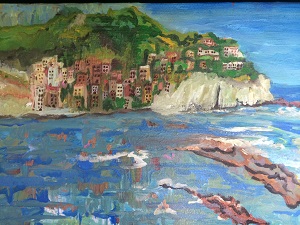 Where do you turn when looking for inspiring ideas for creating & making art? Artworks are not produced by a computer, vacumn, or a microwave. For me, artworks can be inspired by my dreams, interactions of experiences, and the relationship of creative ideas & feelings expressed in some form.
Art is my passion, I hope you will find Art as a way to express yourself to others by asking a few questions.
How can I work through or solve this ideas using ART?
How can I use ART to show the things I learned?
How can I use ART to persuade people about my passions in life?
How can I use Art to brainstorm new ideas that might impact our planet?
How can I use humor and spontaneity and even mistakes to create ART?
Pracitce away from the computer is my motto -- and should be yours too
Yes, it really helps you to keep a sketchbook to draw, record your observations and yes, practice your drawing skills. For me, I enjoy learning different techniques - painting is my favorite. I can draw for hours, "practice" is my motto. I love ART as a way I can express myself in so many ways.
Recently, there has been a lot of buzz about connecting imagination with logic. The world today is all about connections with social media, video games, Google, twitter, Facebook for interrelationships of experiences, perceptions and feelings expressed in some artificial form.I am blessed to have had an opportunity to benefit from today's technology to view a wider range of artworks than ever before with the aid of books, slides,posters, large reproductions, the Internet, DVD's and exhibits in art museums.
Maybe art students of today may find a balance of inspiration and motivation by a real time of memories and observations of their surrounding ( not viewed on youtube). Marc Chagall reflected many of his artworks from childhood memories of living in a small Russian village and imagery from reading Russian folk stories. While teaching third graders, this was a great inspiration for artworks based on asking questions & recording family history and their own cultural and personal background into a time-line painting. It's amazing to me how children can remember very early events about their lives as toddlers and apply colors & symbols into their artworks.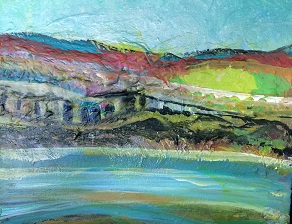 Immerse yourself in culture
I have to admit that I'm all in using websites for viewing many diverse kinds of artworks... The work of others creates a world of cultures, provides artists not only with images & facts about art, but also with the attitude that there is no "right " or "wrong" way to make art.
I am inspired by my love of traveling to European cites searching through museums viewing artworks from other artists as inspiration for my current artworks. Claude Monet was inspired to create a series of paintings finding inspiration by observing the changing effects of light on his garden and lily pond because a single painting could not express all that he loved about nature. I had the honor of visiting the American Landscape Museum several years ago seeing the home & studio of Claude Monet & experiencing how your surroundings can have a definite effect on what influences an artist.
Learn from the Greats
Claude Monet, Mary Cassatt and van Gogh were apart of a group of artists that studied & loved culture of the Japanese through their wood prints & paintings too. Picasso and Braque were inspired from visiting Africa and were inspired by African masks & sculptures. One of my favorite artist to acknowledge is Henry Matisse, he layed in bed and used a series of images in his mind at the age of 70 + to cut out and create vivid, colorful collages.
I'm amazed by the invention of the camera,it allowed Degas to compose his series of race horsing paintings into what we call a snapshot. Today photography has developed into its own artworks with the aid of photoshop & other online tools enjoyed by millions of artists.
Most of all, artists are still inspired by drawing and painting from nature. I have visited Milan, Italy & viewed Leonardo da Vinci inspiration from volumes of sketchbooks filled with his drawings of inventions, drawings of people, and nature . Yes, it was an amazing experience seeing his " Last Supper" and hearing the story how it has been preserved through the ages.
I must say working with any media - whether it is painting, or just pencil and paper---- it just sparks a sense of wholeness within me.
So just take a little advice from "the Art Mouse" be yourself & discover your inner self. I wouldn't want to be anyone else, but me! Keep creating your ART!
Click here to post your sketches and artwork to our Facebook Page